SI on Campus has been very very good to us here at Friends of Crazy Joe Davola, but they are wrong about this Road Trip though, and we'll tell you why...

The author of the article, says Purdue is the greatest university in Indiana. I disagree, since Purdue is ugly in many ways. While it would seemingly be obviously a biased opinion both ways, but I'm guessing the author isn't a huge IU fan, not that it bothers me, but I wonder if he ever has set foot on IU...

When your best place to watch a game is a run of the mill Buffalo Wild Wings, problem A exists.

When your best pizza is also available in Bloomington (not sure if it is the same company) you have a push...

Your best sports team no one talks about is Women's Golf, there is a reason for it, no one cares...

But this is where the boob author really hits a nerve....



However, with Purdue leading both sports' series records (107-83 basketball,
68-36-6 football), some wonder why Purdue calls it a rivalry. Aren't they
supposed to be a lot closer? Guess not.

First off, how many titles does Purdue have in Men's Basketball? Exactly ZERO. You look back to where most of the wins occurred were before most of our parents were even born. It's crazy, and also their fictional 1932 Helms (WHO?) title...Purdue has one of the worst inferiority complexes out there, there basketball will never be as good as IU and football will never be as good as Notre Dame. So basically you're bred into mediocrity.
Secondly this...
Grand Prix. An annual event that started back in 1958, this 50-mile, 160 lap
go-kart race that happens every April is a lot better than Indiana University's
boring bicycle race. Known as "The Greatest Spectacle in College Racing"

If it wasn't for the Little 5, which is more than a bicycle race, Turdue wouldn't have a lame ass go-kart race. I don't see people making a movie about the amazing Go Kart Race either, unlike Breaking Away. Face it Purdue has the biggest loser population on Earth. and there is something else IU has that PU doesn't


These IU hotties....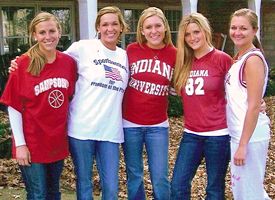 Yeah, IU has WAY MORE hotter women, do you want to date swine at Turdue? Or chicks like these. Case Closed....IU
Opposed to Purdue females